Adelaide, you're amazing! You're my home town – the only place I've ever lived in fact, but that's all about to change as I do one of the most typical Adelaide things to do…and leave Adelaide.
Many a list has been put together of fantastic things to do in Adelaide (here's one from the Adelady gals)  before you kick the proverbial bucket but what about a list of things to do when you've decided to leave the city (for a while)? What about a list for when you say "I'm going into hiding (moving to Melbourne) for a while"?
I present to you, the Adelaide bucket stuff it list.
Walk Burnside Village in your pajamas
Hit up an unnamed outer suburb dressed (and behaving) as Tru and/ or Pru from Kath and Kim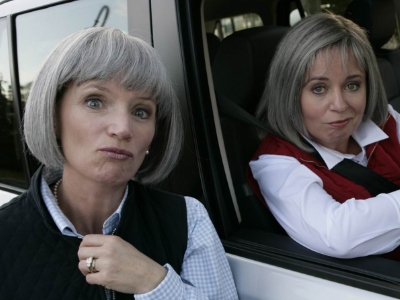 Sit at the start of the Mt Lofty hike eating a KFC family pack. Make eye contact and smile at everyone who passes by. Continue until you pass out from overeating.
Join The Adelaide Fountain Diving Team (a concept concocted by equally crazy aunties. It's pretty simple; you swim in Adelaide fountains. Bonus points for fountains protected by fences…)
Head to the Central Market (or any other fabulous local market) and shamelessly consume 'samples' until you are content. Take a disguise for seconds if need be, but don't forget, you're leaving so who cares?!
Maslins Beach. Do it good and do it proper, you know what I mean.
Busk in Rundle Mall. Don't have a talent? It don't matter – everyone can yodel after a bottle of wine
Ride the bull at The Woolshed. Bonus points if you do it in a dress
Ride a bike along the linear trail and tell your deepest darkest secrets to walkers (and pray to god that they only hear a tiny snippet as you whiz by)
Hit up a late night eatery along Gouger street and order the house wine by the carafe (or BYO for a bargain price) play drinking games until you're politely asked to leave
Go to windy point. Go stand outside a rocking vehicle and just start cheering. When you get sick of cheering, start singing "Sweet Caroline" (for no reason other than that song is so fun to sing and it's kind of hilarious to harass a snogging couple with)
  Ride the Popeye and convince a stranger to go all Titanic (no, not the bit where they bang in the car…or where they die an icy death) and head to the front, get nice and cozy and shout "I'm king of the world!" or alternatively "that plank could have fitted two"
Head to the Zoo with the classic book "where did I come from" and read it to Funi and Wang Wang. It seems they're not all that sure on how to make it happen. Our whole city is rooting for you guys (pun intended)
Attempt to mount the malls balls
Do the same with the malls pigs
Streak at Adelaide oval? (if you can cop the massive fine…)
Photobomb weddings in the Botanic Gardens
Live like a tourist for a weekend – pitch a (canvas) tent in Vic Square!
Have a drink on the Balcony at the Hotel Richmond. Take a spray bottle full of water. Come on, you know what to do (if it wasn't clear, you're here to squirt people in Rundle mall as they walk on by…and then DUCK!).
Get "Adelaide famous". To be clear being "Adelaide famous" isn't necessarily a good thing. Below is an image of my version of "Adelaide famous" – I was twenty and I was not aware that this photo was being taken. Then I recognised my legs on a Marble Bar poster. My friends will NEVER let me live it down.
I've done a few of these things already (though I won't admit to which) but what I will admit to is that, despite abandoning Adelaide for Melbourne, I don't really have any very good plans. I'm so lost in fact, that I'm putting on a Fringe show (my debut solo after being nominated as best new comer by Adelaide Comedy in 2016!) all about writing a bucket list! Want to help me with the challenging task before I abandon our beautiful city? Hit up Fringe Tix for your own ticket here.